Sujit Vaidya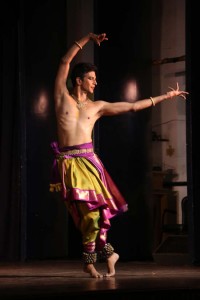 Ethnicity: South East Asian/Indian
Occupation and/or Company: I am a professional Bharatanatyam performer.
Years of experience: Before I took up dance as a full-time profession, I was seeking a medical residency, having passed my licensing exams in medicine. I was seeking to be a general practitioner, when un expectedly, I formed a deep connection with dancing. I completed my dance graduation in 2009, and ever since, there has been no looking back. In the short span of a few years, i have performed extensively in Canada, US, Europe and India. I continue my training in Chennai, India alongside performing.
Personal and professional philosophy: I have a few, but some that have consistently applied are "Give more than a 100% to anything you undertake", " live in the moment", " do not set limits on yourself" and "be true to yourself"
Upcoming performances/project: I have a solo dance production called Swapna-Maya, that I will be presenting at the Scotia Bank Dance Centre, on May 16th at 7:30pm. I have a very talented team of four musicians who will be accompanying me that evening. The production draws inspiration from Edgar Allen Poe's poem, "Dream Within A Dream", and takes one on a journey through four choreographies, supported by AV imagery, Film and spoken word, which question the true nature of "reality" I am really excited to present this work, as working with a live orchestra, lends to fluidity in personalizing the choreographies, and presenting new ideas.
What is the highlight of your work? My work sticks to the traditional formatting of the Classical dance form, but presents the ideas and essence of the centuries old compositions in a very current and relate able context. The dance form is of immense beauty in itself, but sometimes deemed unaccessible due to the specificity of content. However, when put into context, it connects with audiences experiencing it for the very first time. By building a narrative around the dance compositions, I showcase the commonality in the thread connecting the narrative to the dance. In Swapna-Maya, for example, we use poetry to convey the emotionality of the choreographies, thus making the essence of that particular emotion accessible to the audience.
Future goals: I am happiest when I'm dancing, and happier still while performing. But one of my goals is to broaden the audience base for Bharatanatyam. I want to make the beauty of this  art form in its most authentic version, accessible to everyone. There is so much depth and beauty to be appreciated in this form, from the physical to the spiritual, and I plan on showcasing this. In the next five years, I also plan to start teaching Bharatanatyam here in Vancouver.
See movie at https://www.youtube.com/watch?v=EWWFDmih608